Account Switch
Switch Accounts
---
Who is online?
In total there are
2
users online :: 1 Registered, 0 Hidden and 1 Guest
chrisg2424
Most users ever online was
51
on Thu Aug 10, 2017 6:47 pm
Short Story
Several hundred years ago, humans were nearly exterminated by Titans. Titans are typically several stories tall, seem to have no intelligence, devour human beings and, worst of all, seem to do it for the pleasure rather than as a food source. A small percentage of humanity survived by walling themselves in a city protected by extremely high walls, even taller than the biggest Titans. Flash forward to the present and the city has not seen a Titan in over 100 years. Until that day.....
Click picture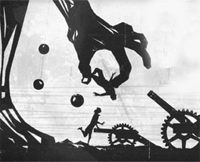 | | |
| --- | --- |
| Of inmates and inventions (Open to all) | |

Author
Message
LateComer101





Posts

: 18


Join date

: 2015-10-28

Character sheet


Rank

:

Rookie




Stats

:


*

:


Subject: Of inmates and inventions (Open to all) Sun Nov 01, 2015 9:36 am

---

OOC: if you want to join, I recommend joining in the context that your character has been tasked with observing and ordering the prisoners.

Karl Hjort sighed as he observed the prisoners standing before him. They had been brought out here into the blinding daylight, outside the castle, for one purpose, and one purpose only.

The experiments had to proceed. Of that, there was no question.

Karl felt no guilt about what he was going to put these prisoners through. Each and every one of them were convicted criminals, seriously ruthless individuals who had tried to crush the lives of others for reasons so poor that they'd been sentenced to death. He'd handpicked them himself with Commander Erwin's permission, saving them from certain death in exchange for making them useful to humanity, for they were to be the tests' subjects.

He wondered when the others would arrive, pacing around the courtyard as he did so in silence. The other soldiers, that is, he thought to himself, they were picked at random from all three branches of the military. Cooperation between all branches of the military is imperative with regards to ensuring that the long march of human technological progress continues.

Today's tests required these prisoners in particular for the reason Karl had picked them: competence in the use of 3DMG. They were all trained thugs: some defectors, some self-taught hitmen, some whose past was unclear.

And they were going to usher in the next generation of human transport. The new 3DMG, designed by a team of engineers including Karl, was to receive its first testing here. It had greater gas capacity but smaller release holes, allowing for soldiers to travel at faster speeds whilst having the ability to remain airborne for longer without a refill. Naturally, this was not a revolutionary development; the 3DMG had been improved upon since it had been invented by constantly tinkering engineers, but it was a significant step forward in science.

"Offer up your hearts," he shouted at the prisoners, all 50 of them, who had been standing in a rectangular formation, subdued in nature. The beatings they had received from the military police had tamed them somewhat, and it had been made clear to them that, if they did as they were told, they would be freed and pardoned for their crimes after 5 years of service to the military.

They offered Karl a weak and grudging salute, knowing that the unreliable knew technology they would be testing in the nearby forest would probably kill some of them. The whiplash generated by the new technology, along with other technological issues, could (and had, in past tests) damage their bodies, and until the new equipment was properly refined and tested, it was downright dangerous, and not fit for military use.

That was where they came in. They were to be led through standard training exercises in the forest, visible from the courtyard they were standing in at the moment. The sun baked the flagstones of the courtyard as Karl Hjort paced across it, saying "Good enough," gruffly as he observed their salutes.

The purpose of the other soldiers yet to arrive was to, along with the team of instructors who would be guiding the prisoners through their tasks and the forest, observe the prisoners' progress and technological advantages and flaws of the new 3DMG, and order them to carry out certain manoeuvres to see how the new gear worked when such moves were executed. The differing military perspectives in the Garrison, Military Police and Survey Corps ensured that the new equipment would, based on the reports of the observants, be altered in design to be useful in as many ways as possible to soldiers from all three branches of the military, before it was produced and made the new standard issue 3DMG.

Naturally, as the production of and experimentation with this technology was a somewhat sensitive military secret, its initial testing phases did not take place in the training grounds, but near the military headquarters, where guards ensured that no unauthorised eyes watched and learned from the prisoners' demonstrations.

Once the technology was approved as safe for military use, it would be issued to a quota of soldiers from all three divisions at random, and they would then test it, this time in the training grounds. Once this phase of production was complete, the new 3DMG was to be taken into active use by a select few soldiers, and trialled in action, whether this was in the context of capturing criminals, repairing the walls or challenging the titans outside the safety of Wall Rose. This had been standard procedure for decades as military technology advanced, and it was to come to a halt once it had been demonstrated that it was sufficiently more useful than previous 3DMG designs to be adopted.

The prisoners were standing to attention, alert and ready for orders. Karl sighed again, wondering when the first of his companions would arrive. The sun was bright, the air was warm and he was eager to start the testing of the gear he'd worked so hard to produce.

Alan Katlewande





Posts

: 184


Join date

: 2015-06-23


Age

: 101


Location

: Mitsuo's closet

Character sheet


Rank

:

Captain/Squad Leader




Stats

:


*

:

Military Police




Subject: Re: Of inmates and inventions (Open to all) Mon Nov 02, 2015 9:45 am

---

Alan always liked the way the light shone through the flags atop the castle. They seemed so colorful and happy, a great contrast to the mucky grays and browns of Alan's hometown. Alan's mother always seemed to think the Inner Districts would be better for Alan - and so far, she's been correct.
Alan walked briskly towards the field before the castle, where he was assigned a few days prior to help out with some experiment. His boots were polished and kept clean the way only Military Police could keep. His hair has been firmly kept in a tight ponytail, save for a few stray hairs. His rugged, black scarf lazily drifted in the wind as he marched towards the open courtyard, where he saw a familiar figure already waiting.
Karl Hjort he said the name out loud in his head, recalling the shock he's gotten when he heard it a few days before. He was talking to his official, who chose him specifically for this task. Alan was always glad to help out wherever he could, in order to keep negligent Military Policemen from doing important duties. However, his interest peaked when he heard who was leading this mission. It had been years since he's heard of Karl, let alone got to work with him. He was glad to reunite with his old friend, and because of that quickly accepted the mission.

As Alan walked towards the lone figure, he saw how older he seemed. Although he was still shorter than Alan (by half an inch), he seemed a lot taller, and older. Alan had to remind himself they were of the same age, despite the fact that Karl was older by a few months. Karl's hair was shorter than it previously appeared, giving him a more serious look.
I must keep to the formalities Alan reminded himself as he finally stood beside his old friend. He had to remain professional, and carry out the mission exactly as instructed. Such was the way of the righteous Military Policeman. Alan raised his hand to his heart and offered Karl a salute, smiling.
"Alan Katlewande, Military Police patrolsman" he stated, despite the fact that Karl probably knew who he was "I was assigned to this experiment due to my observant nature, scientific mind and, most importantly, volunteering. It's... good to see you, Karl."
Alan stopped saluting and offered his friend a handshake, as a friendly gesture. He hoped Karl was as excited to work with him as he was. While Alan felt like he couldn't quite understand nor trust most people around him, even those he called friends, Karl was among the exceptions. Alan had to admit he had a certain distant side he didn't quite understand, but overall Karl was an intelligent and reliable friend. It was a shame that when it was time to finish training, Karl joined the Scouts, while Alan unwillingly went to the Military Police.

Alan had to remember his duty - he was here to observe convicts try out Karl's experimental 3DMG, and order them to try various things. Alan didn't enjoy toying with the lives of people, but he knew that this was the safer option for many, if not all of them. Alan was glad that by doing this, he was offering them a chance of redemption for their heinous crimes. He couldn't help but notice the lack of ex-Military Policemen among the inmates' ranks.
By the time my quest for justice will be done, the cells will be filled to the brim with criminal Militants who abused their power and the law Alan told himself. He had doubts if he were to truly succeed, but he knew that regardless he would try his hardest.

LateComer101





Posts

: 18


Join date

: 2015-10-28

Character sheet


Rank

:

Rookie




Stats

:


*

:


Subject: Re: Of inmates and inventions (Open to all) Tue Nov 03, 2015 12:05 pm

---

"Good to see you too, Alan," Karl replied, a warm smile on his face as he recognised an old friend and shook his hand firmly. It's been a while since I've seen Alan, Karl thought to himself, I really ought to find out what's happened to him over the past year. He's grown, and actually looks quite healthy now. I suppose it must be because the Military Police rations are fit for human consumption, if nothing else. Or perhaps it is because he has fulfilled his mother's ambitions and so is more at peace with himself...

Karl snapped himself out of his train of thought with a mental command to himself: It is imperative that the testing continues, and is not slowed down needlessly in any way. Before I find out what has happened to Alan since we parted ways over a year ago, I need to deal with the necessities of this mission.

"I suppose I ought to go over a few points before we begin testing whilst we are waiting for the others, although this may have been explained to you by our superiors already.

"Once the others have arrived, we may begin experimenting in that forest over there with the latest 3DMG designs." Having said these words, Karl Hjort pointed to the woodland that started to assert its presence within roughly 50 metres of the castle, and stretched off as far as the eye could see. "It's a very secure environment, and the convicts arrayed before us are unlikely to rebel after the disciplining they've received, but a word of advice about it: watch out for the flying felons. Not being used to controlling the new gear, they can occasionally have...unfortunate...collisions with their instructors. As long as you are aware of their general trajectory and this fact, you're probably safe, but it's still best to stay fully alert."

The prisoners remained utterly silent, their ears only open to orders from those who might ensure their freedom in years to come, if they survived.

"As I'm sure you're aware, being in the Military Police means that you have a significantly different perspective regarding the uses of 3DMG to the rest of the army. This makes your viewpoint very useful when it comes to these tests and I encourage you to lead the test subjects through any motion which might be useful in your profession. After all, better that the those who are already dead risk getting hurt using 3DMG instead of soldiers such as yourself."

Karl grinned, and quipped, "Mind you, I am sure there are quite a few 3DMG-wielding criminals in the Military Police as well as outside of that organisation. Speaking of which, how have you been faring over the past year in there? I bet your mother was proud of you."

Alan Katlewande





Posts

: 184


Join date

: 2015-06-23


Age

: 101


Location

: Mitsuo's closet

Character sheet


Rank

:

Captain/Squad Leader




Stats

:


*

:

Military Police




Subject: Re: Of inmates and inventions (Open to all) Fri Nov 06, 2015 2:06 am

---

//OOC: Sorry for taking so long to post - I am so bloody busy all the time :0

Alan stood and listened patiently to Karl. As always, he was informative and direct in his way of talking - Alan noticed how much he has missed the Scout's method of speech.
Karl would like me to focus on maneuvers relevant to my profession Alan took note ...Which will mainly focus on human versus human scenarios, like chases and aerial combat.
Alan's personal experience with the 3DMG has been more... titan oriented than his fellow Military Policemen's. He had been practicing alone for a few months now, trying out various moves that relied on more vast and open space. If Alan was ever going to fight a titan, he made sure he would be ready.
Alan was brought back into reality when Karl said something that threw him off-guard a little.
Karl mentioned the corruption of the Military Police, and his mother as well.

Alan tensed up a bit, and looked up nervously at the castle standing in front of him. It looked menacing enough, but luckily he caught no sign of people spying on them.
"Not so loud, Karl." he replied quickly and quietly to his fellow soldier "...The Military Police has ears everywhere. It's not safe to mention their corruption when you're so close to their headquarters."
Alan then giggled a little bit and pulled his hair back, in order to trick anyone overlooking their conversation into thinking he just told a personal joke.
"The Military Police is fine." Alan replied, the same tone as before "It is indeed full of scum and villainy, but at least now I have an easier time tracking the corrupt officials around me. It's... so much worse than the rumors we heard back at training. So very much worse."
Alan had a slightly sad look in his eye. He always knew the Military Police were corrupt to a certain degree, but reality was far worse - he has yet to find any current members who had not committed an act of crime or injustice - himself included.

"Oh, mother was pleased. About as pleased as she could've been." he noted, looking around the grounds. He realized he has yet to visit her since he was enlisted and taken into the Inner City. Alan was slightly worried about visiting her, because he did not know what state he would find her in.
"But yea, the life here is great. There's good food, and sleep and free time. I picked up reading during my stay here. You wouldn't believe the amount of things a person could learn in a short time." he smiled at Karl. He was fairly certain that with access to the library of the Military Police, Karl could even further his wisdom. Alan wanted to see that happen.
"So how have you been faring? I hope the Recon Corps has not been treating you too harshly. Wouldn't want that head of yours to take a beating." Alan smirked playfully. It was strange for him, meeting someone from before he became a soldier. It was nostalgic, and wonderfully unsettling somehow. It made him think of who he was, and what he has become.

LateComer101





Posts

: 18


Join date

: 2015-10-28

Character sheet


Rank

:

Rookie




Stats

:


*

:


Subject: Re: Of inmates and inventions (Open to all) Tue Nov 10, 2015 12:22 pm

---

//OOC: you don't need to apologise. As you may have noticed by this delayed reply to your post, I too have a busy life IRL. :)

Karl offered Alan a small smile. "Very well, I'll stay quiet about the Military Police," he muttered softly, "it's not like our factions of the military are the best of friends, to put it bluntly." He raised an eyebrow at Alan's account of just how corrupt the Military Police was, and said, "However, some day, we should speak in more detail about these M.P.s. I'd be interested to hear your accounts of their, ah, malpractices.

"I'm glad to hear that you are faring well. As for me, well, I'm fine on the whole, but our military engineering budget isn't anywhere near as high as it should be because the Recon Corps are poorer than the inhabitants of Nedlay District. That's a significant constraint on how quickly we can make technological progress, unfortunately."

His increasingly grim voice slid back to a more cordial tone, as he continued, "Projects like these, however, are funded by all three branches of the military, so we still get a healthy amount of work done when our tasks involve the improvement of 3DMG.

"The battlefield is, I must admit, a very disconcerting sight, even though we were prepared for it for years. I've seen horrors that I can barely put into words...but humans are not always so different in nature to the titans. I'm sure you've seen your fair share of atrocities too, in your line of work.

"But enough of this grim talk! What are you intending to do with yourself now, Karl, given that you have fulfilled your ambition of joining the M.P.s? Have you planned anything specific for the future?"

Alan Katlewande





Posts

: 184


Join date

: 2015-06-23


Age

: 101


Location

: Mitsuo's closet

Character sheet


Rank

:

Captain/Squad Leader




Stats

:


*

:

Military Police




Subject: Re: Of inmates and inventions (Open to all) Fri Nov 13, 2015 11:39 am

---

Alan listened to Karl's stories with both dread and envy filling his mind. Karl's life and work were hard, problematic and demanding. However, it seemed that he was realizing himself, in one way or the other. Alan doubted he could cope with all of that nearly as well as his friend. While he very much could handle himself in the field, and he reckoned he could put up with darker side of scouting, he simply believed himself too sluggish for such a demanding job.

Alan tensed up a little again when his friend mentioned his future plans.
He can read me like a book Alan told himself, feeling both nervous and pride I am very glad he is not my enemy, because if he were, he would surely be my downfall.
Alan was not certain if he should tell his childhood friend about his intention of donning a costume and going outside the walls in order to fight the titans. He trusted him completely, but as he said before, around the castle anyone could eavesdrop.
Alan decided that now was not the best time to tell him. Not yet, at least.
"I hope to advance through the ranks, so I may do more good for the people." he answered, finally. It was a short and vague answer, but Alan was not known for being too chatty.

"I... am ready to start the mission. Of course, when you are, sir." Alan said, standing properly with his hands behind his back. He did not want to give anyone who was spying a reason to think Karl was different than anyone else Alan worked with. Alan was afraid his enemies might use someone like Karl against him.

The Military Policeman looked at the convicts lining the field. They were standing very still, but it was fairly easy to sense that they were very tense. Alan couldn't blame them - experimenting with possibly deadly new devices was not something anyone would want to do, even with the chance of escaping the death penalty. Alan was aware that some even chose the death penalty over this experiment - he couldn't blame them for that, either. Just like them, he heard rumors of human experiments involving titans. He shuddered to imagine what that could involve, what that could do to a person.
He shook his head, and regained focus. Gotta stay alert, he reminded himself.


LateComer101





Posts

: 18


Join date

: 2015-10-28

Character sheet


Rank

:

Rookie




Stats

:


*

:


Subject: Re: Of inmates and inventions (Open to all) Fri Nov 20, 2015 8:09 am

---

(//OOC: shall we finish Of Death before continuing with thread, so that when we finish that chapter, more users will have time on their hands and might join this chapter? I thought we could leave it for now while it is still nascent, but if you don't think this would be worthwhile, I'm happy to continue.)

Alan Katlewande





Posts

: 184


Join date

: 2015-06-23


Age

: 101


Location

: Mitsuo's closet

Character sheet


Rank

:

Captain/Squad Leader




Stats

:


*

:

Military Police




Subject: Re: Of inmates and inventions (Open to all) Fri Nov 20, 2015 9:10 pm

---

//OOC: It's a possibility. Truth be told, I am not sure how effective it'll be. I mean, by technicality, Mitsuo and Herdir are both scouts, while Severin is garrison. However, these characters specifically don't spend a lot of time in their respective corps.
In any case, my suggestion is that we ask them individually if they would like to join this thread upon finishing Of Death, and based on their reply we'll either carry on or pause.

Sponsored content






Subject: Re: Of inmates and inventions (Open to all)

---

| | |
| --- | --- |
| Of inmates and inventions (Open to all) | |
Welcome!!!
This is an attack on titan RP where titans are rules of the land. Humans are locked into the walls living their life and trying keep safe from those monsters. You can play canon and non-canon characters but the story doesn't follow the manga. Enjoy your stay and RP with us!
Staff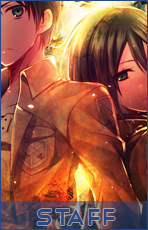 Affiliates
Our Buttons


Your Buttons