Connor Graham
Basic Info
Name: Connor Graham
Nickname: Connor, Conman by his friends (Assuming he had any) sometimes called Ironskull by gangsters and mercenaries.
Gender: Male
Age: 16
Sexuality: Hetero
Personality: Connor's personality would heavily resemble an egg, keeping a hard exterior to cover a soft interior. He's a taciturn young man, generally introverted, and doesn't trust easily. Those who do take the time to pick apart his walls will find him to be a feircely loyal friend to keep, who loves to drink and has quite the appetite, and can really get into a deep conversation.
His gentle side surfaces most around animals and children, often sparing food if he has any to spare, and is quick to anger when he sees either be abused. Though most of his 'silent tough guy' additude is usually an act to make those who would do him harm have second thoughts, he does have anger management issues, and it usually requires another to reign in his fury if he becomes too hotheaded.
Battle seems to be where he feels most in control, able to follow an order within reason, in enough control of his fear to stay focused, and apply his anger to his attacks. It's also where he seems to display an inferiority complex, risking his own skin to save a comrade if he can, and gravely insisting they leave him behind should the worst happen, claiming he's 'just another brute'. This mindset also benefits him with a constant will to improve and an awareness to his mistakes and flaws, even if he won't be satisfied with the strength he's gained as a result.
Physical Traits
Rank: Rookie
Special title: N/A
Group: Trainee
Job: N/A
Height: 6'4
Weight: 250 lbs
Hair Color/Length: Black/Short
Eye Color: Brown
Appearance: Connor is large and well developed for a young man of his age, looking a few years older than he really is, give or take. His tanned white body is hardened with muscle and covered in scarred and calloused skin, though his most prominent scars seem to be from blunt damage to his forehead. He keeps his apparel with intimidation in mind, wearing his coal black hair in a thin Mohawk and a rugged goatee around his lip, and prefers to wear  black and always seems to walk around in combat boots even when relaxing. No matter what he's wearing, he always wears a patch on his coat, which signifies a lightning bolt; the standard of his old Mercenary squad.
His most outstanding feature would be his head, which is about as large as a textbook and very tough, hence his nickname 'Ironskull.'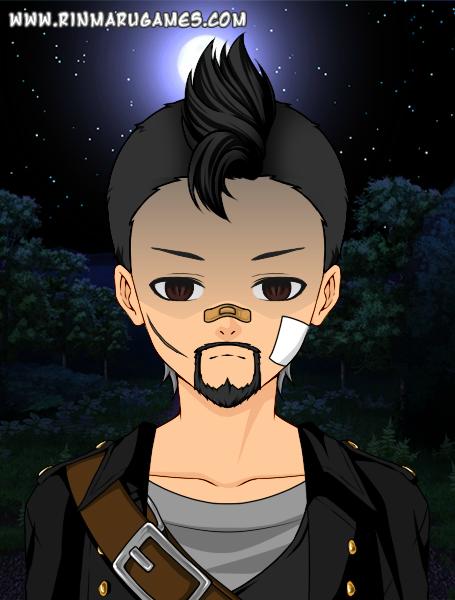 Stats
   Toughness - 7
   Intellect - 3
   Dexterity - 5
Character Information
Likes: Connor has a thing for blades having been grown up around them a lot, and hopes to start a collection one day. And though he seems like, and even calls himself a brute, he appreciates beauty, be it in art, fashion, or just in nature itself, as it was something he was so rarely and preciously exposed to most of his life. Lastly, he loves a stiff drink, from fine wines to stout beers, which he seems to owe to his Celtic heritage.
Dislikes: Connor is of a warrior mind, and therefore despises cowardice, be it from deserting from a battle or abusing something that hasn't the power to fight back.  He also hates people who 'talk the talk', that make themselves look like they're better people than they actually prove to be. Lastly, having trust issues, he despises dishonesty even in the slightest.
Fears: One of the biggest things that scare Connor is knowing that the slightest mistake on his part can bring others to harm. Between having grown up to the grit of Nedlay, and being aware of the titan threat, he's also afraid to be close to someone, knowing they could either die or exploit his loyalty. He also isn't fond of guns, or anything else that makes a sudden loud noise, a fear which was burned into his subconscious after narrowly avoiding a gunfight at a young age.
Motivations: Connor is determined to honor his fallen comrades, and take the fight to the Titans. Knowing the titans have the means to bring down the walls, he feels the time to hide and run is over, for if this is humanity's last stand he would rather meet it head on than spend humanity's final hour cowering in fear.
Character History
Background: Connor was born a single child to a destitute family in the Nedlay district. Though born premature and sickly, his stubborn will to live and a voracious appetite kept him alive, though as a result his family nearly starved themselves to make sure he was fed and taken care of, until eventually he was sold to a wandering mercenary named Finn, captain of Zeus Squad. While Finn was hardly a nurturing parent figure for Connor, he was in a better financial position to care for him as he and his crew always had something to keep money flowing. The only hope for Connor from then on was that he would prove a good investment.
From the moment he could walk, Connor was trained to fight, from swordplay to fistfighting, even gunweilding and horseback riding. In one occassion he was even trained to survive in the wilds, where he learned to hunt and make the most of whatever resources he could find. The only thing he wasn't heavily trained in was his booksmarts which, beyond reading and writing, he had to learn with experience. He was also heavily disciplined, often beaten with a rod for insolent behavior, and they didn't treat him any more leniently during training, which he would often gain a bruise or gash when he made a mistake during sparring sessions. Nights weren't entirely restful or comfortable either, as he often either slept in the cheap bunkhouse the Zeus' owned in Nedlay or camped out in the wilds during his survival training. With such a harsh upbringing, he rarely got to play with children, and the times he could he would be too exhausted to stick around long enough to make friends. The only good, laid back company he could find was with the occassional stray cat he would find on the streets, which he often offered food to.
Growing up the way he did, Connor became reclusive and sometimes had a temper. Sparring matches with him became dangerous, and as pleased as Finn was to see it, he would often hold Connor back, scolding him to 'take his anger out on something else.' He did as Finn told him, though his alternative methods weren't much better, as he would sometimes beat his forehead against a wall or tree until he bled. Whatever damage he did to himself in the process, it would pay off in his first battle. At the age of ten, Connor was finally allowed into his first assignment, where a raider that had attacked the caravan the Zeus' were protecting clubbed Connor in the head right off his horse. Such a blow should have knocked him out, yet Connor recovered just in time to make his attacker fall on his blade before he could deal a killing blow. Henceforth, Connor earned the moniker 'Ironskull' and was accepted as a fledgeling warrior among the Squad.
He saw more of the world afterwards, at least the world the walls would allow them to see. He had almost expected it to be as bitter as Nedlay but he found it to be different. Where Nedlay had a lot of color, the other districts seemed to have a certain shine to it. Everyone was content, well fed, and even well dressed; better dressed than the rags in Nedlay at least. The upper class, however, were more as he expected, people with money always willing to show superiority. One nobleman even scolded Connor for speaking to his equally young daughter, calling him a 'simple brute.' He was used to worse insults from his band, yet it wasn't until a common woman spoke pity on him that he began to see himself through their eyes. Most children outside of Nedlay were relatively joyous, and the worst they had in the way of scars were scrapped knees and elbows. Then there's Connor, a boy just seeing his tenth winter and already looked battlescarred and world weary.
He began to notice the grim side of life outside of Nedlay, but the one that stuck with him the most was getting to see the Survey Corps return. He hadn't heard much of them, aside from Finn who said they were great warriors and titan slayers. With that kind of rep alone, he'd expect the Survey would receive a hero's welcome, but this was not the case. It felt more like a funeral procession, everyone clamoring and wailing to find their loved ones, only for most of them to find they were killed in action with some having barely enough remains to bury. Meanwhile, those who lived were quietly mocked, some even going as low as taking bets on who'd die in the next Survey, like they were criminals on death row.
Connor's curiosity of titans began to blossom after that. He asked Finn more about them, though Finn avoided the questions each time, saying 'They're none of our business.' Connor would soon realize that even with all he experienced, nothing could prepare him for his first meeting with a titan. At age 11, while the company rode through the wilds outside Wall Rose, Shiganshina was attacked, and the company wouldn't receive word until it was too late. A 10 meter titan ambushed them as they rode through a forest. Finn got the worst of the surprise attack and was thrown off and pinned by his horse. The company did their best to defend their leader, Connor staying at his side, but Finn kept cursing them and telling them to run. When Connor refused, Finn pushed the envelope, saying 'I didn't train you all these years just so you could get eaten. Survive. Survive long enough to fight back.' Before Connor could agree or protest, one of the mercenaries grabbed him and rode off. Finn's sacrifice bought them the time they needed to escape.
As a result of the loss of Wall Maria, the Squad had to work for food rather than money, as the food shortage nearly outweighed the value of gold. Between the starvation and the loss of their leader, the Zeus Squad began to fall apart. When the refugees were sent out to reclaim Wall Maria, nearly all of Zeus Squad was sent in, save Connor, whom was still considered a child, and the squad was expended in the battle. For the first time in his life, Connor was alone.
Few Orphanages had the space to take Connor in, and the ones that did have space was little enough that he would run from them, not because they weren't kind to him but because he didn't want to be just another mouth to feed. Whenever he got low enough to a point where he wanted to give up, Finn's last words always came back to haunt him; 'Survive, Survive long enough to fight back.' And survive he did, sometimes poaching or even stealing if thing's got desperate enough.
Connor spent the next few years mustering his strength and staying alive. Soon the food shortage passed, and at age 13, Connor finally started taking charge of himself. It was terrifying at times, having nobody to tell him where they were going next, or what job they were to do, yet it was very rewarding, being able to appreciate the little things in life when he wasn't absorbed in his work. He still had trouble making friends though, and whenever he got close to trusting someone his age, he would always be the scapegoat for their misdeeds. After all, who would be a better magnet for blame than a rugged homeless teenager?
It happened enough to where he got fed up with it, to the point where he would start cutting his hair into a mohawk just to look menacing enough to be left alone. He started to favor animals after that, realizing that if they didn't like him, they'd leave him alone, and if they did like him, they'd treat him as a friend. It was all he could have asked for.
In the years that followed, Connor's focus returned to his training, finding he hated being physically stagnant, and was even taken seriously enough to be a bodyguard on occasion to earn his keep. At age 16, when the attack on Trost happened, Connor realized the time for surviving was over; It was time to fight back, and so he signed up with the military to be a Trainee.
Extras: An application for a machete will be made for this character. This is a first draft so please give me as much constructive criticism as you can x.x