Account Switch
Switch Accounts
---
Who is online?
In total there are 2 users online :: 0 Registered, 0 Hidden and 2 Guests

None

Most users ever online was 51 on Thu Aug 10, 2017 6:47 pm

Short Story
Several hundred years ago, humans were nearly exterminated by Titans. Titans are typically several stories tall, seem to have no intelligence, devour human beings and, worst of all, seem to do it for the pleasure rather than as a food source. A small percentage of humanity survived by walling themselves in a city protected by extremely high walls, even taller than the biggest Titans. Flash forward to the present and the city has not seen a Titan in over 100 years. Until that day.....
Click picture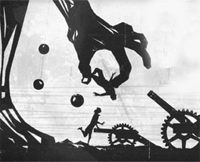 | | |
| --- | --- |
| Shady Business (closed; PM for entry; Violence) | |

Author
Message
cornix





Posts

: 415


Join date

: 2015-04-27


Location

: Black marsh

Character sheet


Rank

:

Trainee




Stats

:


*

:

Rookie




Subject: Re: Shady Business (closed; PM for entry; Violence) Thu Jun 04, 2015 8:19 am

---

Nec waited outside and listened to the footsteps. There were three people stationated on the floor concluding by the sound of their steps. Those were definitly not as well trained as she was. Cora, Nec and Vex have been tought to walk the same as the other kids. Noone could distiguish a single individual by the sound of their steps.
One was coming closer and closer. The door opened and as the guard wanted to shout something Nec threw a knife, the knife handle hit him on the larynx and he passed out. Nec dragged him into the corner of the room and went back to her post.

Nec was impressed by how fast he had found it and nodded. She closed the door again and locked it.
"Cora wanted us to sneek out, but I know she doesn't really like that.", she whispered, opened the other door slightly and peeked through the gap. One guard was getting closer, as he was in front of the door Nec opened it, grabbed the guard, pressed her left hand over his nose and mouth and dragged him into the room. He was fighting and trying to make noise but Nec held her hand over his mouth and nose until he passed out.
"Ooops, I think I ruined it.", she whispered. "Two down...one to go.", she sneaked out and waved Auth to follow her. For now it was easy, she took one guard on this floor down.
The staircase was coming in sight.

Herdir





Posts

: 243


Join date

: 2015-05-03


Location

: Neverwhere

Character sheet


Rank

:

Rookie




Stats

:


*

:

Scouting Legion




Subject: Re: Shady Business (closed; PM for entry; Violence) Fri Jun 05, 2015 2:32 am

---

Auth watched Nec take out the guards. Well, it as true that "no killing" didn't say anything about making them pass out, but still, Auth preferred a ghost-like no-trace operation. Not like there as anything he could do now about it.

Or was there...? His mind quickly worked a solution as he saw the other door near the strongroom. The wardrobe, if he remembered well. He silently pried the door open, and got confirmation of his suspicions: it was, indeed, a room full of clothes. He smiled, and took two very ornate hooded cloaks, one more feminine, like belonging of the Kolbermoor lady, and a masculine one.

As he threw the feminine one to Cora, he whispered towards her in a slithered, directional manner. "Put that on you, walk with your back slightly bent, and take my arm." It was an interesting way of talking his dad insisted that he should master, as it allowed one to speak on longer distances without being heard by anybody else. "Also, leave the talking to me."

He smiled as he changed his cloak with the one stolen. In this darkness, it'd be unlikely any guard will recognize them as not being the master of the house and his wife, and also, talking them into misbelief didn't really count as "corruption".

cornix





Posts

: 415


Join date

: 2015-04-27


Location

: Black marsh

Character sheet


Rank

:

Trainee




Stats

:


*

:

Rookie




Subject: Re: Shady Business (closed; PM for entry; Violence) Fri Jun 05, 2015 10:42 am

---

Nec's hand started to shake and it didn't take long for Cora to regain the control of her body.
She held the cloak up to look at it and then put it on. What a weird but great idea!
She took his arm carefully.

Are we doing this right?
I don't know we've never done this!
That's why I ask us!
I suppose so...should we ask?

"Is this ok? I've never done this...", Cora whispered embarassed and looked down on the floor. She made herself alot smaller and bend herself a bit.


//OOC: sry that I couldn't write as much, I first had some of my friends over for BBQ and now my brother is in the hospital because of his appendix...and I'm tired. Hope that's ok

Herdir





Posts

: 243


Join date

: 2015-05-03


Location

: Neverwhere

Character sheet


Rank

:

Rookie




Stats

:


*

:

Scouting Legion




Subject: Re: Shady Business (closed; PM for entry; Violence) Fri Jun 05, 2015 11:25 pm

---

Auth adjusted his voice a bit, then started to go down the stairs slowly. Hurrying now would make them stand out too much, so it'd be better slow and safe.

The building had three floors, and Auth could see guards patrolling each of them. The guards could likely see them too, but with none of them being up close, they didn't say anything, as not to bother the man who gave them their payment. As such, it was smooth sailing until the front door...

"We'll be going out for a bit" Auth said to the guardmaster positioned there. His voice and tone were also very different from those he uses normally, leaning very close towards how Kolbermoor spoke.

The guardmaster looked at them, with a slight degree of suspicion. "... and why would you do that, sire? Is it not dangerous out there at this hour for a man of your esteem?" He made a pause. "Should I arrange for a guard to come with you, sire?"

Auth motioned with his hand as a no. "On the contrary. I'd just received word from a friend in the... business... that someone would come to assassinate me soon enough." He looked around full of suspicion. "And given he entered uninvited, through the window... I don't trust in your ability to guard me, it'll just draw attention to the fact I left. Doub... nay, triple your damned incompetent guard around this place until morning. Also, pretend that in the dormitory is me sleeping, and not the man who came to notice me of this attempt on my life, so don't open that door or anything." Auth made another pause, just to make the guardmaster scared enough that he'll lose his post if he did anything wrong now. "You'll find two or three unconscious guards on the upper level. My friend took them out while entering to prove me how easy it is to do. Oh, and hold onto this until morning" he handed the guardmaster the silver wasp token. "Return it to me then; I need it in a place where no one will look. Your pocket is perfect for that matter."

With that, Auth took Cora out of the door without waiting any confirmation from the guardmaster. The latter was too busy sweating over the thoughts of his salary to make any attempt to stop him. Smoothing sailing again, all the way to Kolbermoor's horses. He mounted one of them, and gestured to Cora to mount the other. If they were "running from assassins", he could at least make it credible by using these horses. Well, and getting a bonus two horses out of the deal...

//OOC: Of course it's okay, man. Family and real life in general always come first.

cornix





Posts

: 415


Join date

: 2015-04-27


Location

: Black marsh

Character sheet


Rank

:

Trainee




Stats

:


*

:

Rookie




Subject: Re: Shady Business (closed; PM for entry; Violence) Sat Jun 06, 2015 1:22 am

---

Cora played her role as Auth's wife, or better as Koblermoor's wife. She observed everyone and everything carefully to detect if someone got suspicious. As Auth spoke with the front guard she not only listened to what he said but mainly to how he spoke to the guard. Auth had some very useful skills.
Cora came to the conclusion that he might be not so good for jobs where you had to fight but he was made for jobs like this. Talking to people seemed like something he had been trained for. She wondered how that came and noticed that she actually didn't know anything about him.

Hey guys! Mental notes about Auth quickly!
Auth vi Rauco, male, Survey corps, about 20 years old, intimidating presence, likes to be called 'lord'
Royal heritage? Or just arrogant?
First? He is not arrogant in my opinion, he respects us...
AND he knows about us...we know nothing about him, or?
You forgot that he knows alot about-
You're right, like how he behaved right now.

Cora followed him outside and got on one of the horses in side saddle. "To the clocktower!", she whispered to Auth but she waited for him to lead them out of the house.



Last edited by cornix on Sat Jun 06, 2015 1:49 am; edited 1 time in total

cornix





Posts

: 415


Join date

: 2015-04-27


Location

: Black marsh

Character sheet


Rank

:

Trainee




Stats

:


*

:

Rookie




Subject: Re: Shady Business (closed; PM for entry; Violence) Sat Jun 06, 2015 1:48 am

---

//OOC: Thanks! My brother is well again it was just a grumbling appendix but he had to stay one night. This morning he told me that he was in a room with a snoring about 40 year old man and so my brother couldn't sleep. That's why he wanted revenge and was snorring as loud as he could, causing the man to wake up. My brother just pretended to be asleep...in the morning he asked one of the doctors where the lounge was because he was hungry...

Herdir





Posts

: 243


Join date

: 2015-05-03


Location

: Neverwhere

Character sheet


Rank

:

Rookie




Stats

:


*

:

Scouting Legion




Subject: Re: Shady Business (closed; PM for entry; Violence) Sat Jun 06, 2015 5:28 am

---

Auth lead the horses out form the courtyard, thankful none of the guards there said anything and just opened the gate. As soon as he was more than twenty metres away from them, he tried to adjust his voice again, but ended up having a coughing fit.

"Well damn..." He coughed a bit more. "Using somebody else's voice does... " More coughing. "... bad things to the vocal chords. " Cough. "God dammit!".

He lead the horses on a short detour as his vocal chords stopped irritating him. The detour was made in order to get the other two horses as well, since it wouldn't do to lose them. After binding them to the saddles of the horses they rode, Auth remounted and left for the clock tower.

He himself wasn't planning to talk too much on this way back, but neither to keep shut the whole time. Only, he'd be making conversation as not to give Cora any suspicions about him, since he'll be using most of the time of going back to fit the puzzle pieces he found at Kolbermoor's into his general view of the things. Which was better kept from Cora, due to... possible complications that could arise.

cornix





Posts

: 415


Join date

: 2015-04-27


Location

: Black marsh

Character sheet


Rank

:

Trainee




Stats

:


*

:

Rookie




Subject: Re: Shady Business (closed; PM for entry; Violence) Sun Jun 07, 2015 1:55 am

---

Cora smiled as she heard Auth speaking, she didn't have any problems with changing her voice...well she didn't really change it, Nec and Vex just had different ones.
"You're good, now you've  got two horses more!", she said happily, what a great day it was!
Cora whisteled something quietly and got off her horse, "We are here!"

She looked around and opened an inconspicuous door that just seemed to lead into a pit latrine, she lifted the plank and revealed a secret staircase into the dark.
She went downwards trying not to trip, there wasn't any light down here and lighting a torch wouldn't be the best idea either.

As she finally reached the end of the stairs she could see some light about 20meters ahead. Cora reached the light and could see the whole beauty of the darkest and most cruel part of the black market. She looked around and saw some men selling children who probably had the same history as Cora but they didn't have the same masters as she had, they weren't as good as she was. She put down the clothes she got from Auth and grinned. It was time to finally go by her old habits to get back into the mercenary business. Cora took a deep breath and could smell the sweet scent of the dead and the metallic one of blood. It had been way too long, life in the military was great but not that what Cora loved and what she wanted to have around her.
She turned around and grinned in Auth's direction. "Follow me, my Lord!", she said jokingly and went down the corridors. She finally saw were she wanted to go and shook her head to wipe of the grin on her face.

Time to bring back Valkyrie, right?
I love when she does that!

Cora took the fox fur pocket and went to the stall. She showed it to the merchant, he nodded and lead them down another staircase in the stall. On the end were two doors, he opened the left one signaled Cora and Auth to wait.
Cora turned around to Auth, "Listen, I will just repeat what I already said: Let me talk and do everything I do. Don't try to hide anything, it could end up in  you getting killed. If they just want to make me a part of them I will make them take you too, ok? And the most important part: Don't show fear but don't make them think you think you are something better than them, ok?"

The man opened the door again and nodded. Cora went in and found herself in a big room. About 50 boys all around 20 years old were standing on the walls, she could only see some girls. In the middle was a big table with 10 men sitting around it.
Cora ordered Auth with a small hand waving to position himself next to her and stay were he was.
Some boys came and took every weapon they had on them.

She made a step forward and said loudly, "We want to join your group, we've got the bag and didn't open it, like you told us.", Cora held the bag up a small boy came, took it and brought it the men.
They didn't even look at it, one stood up and said:"You look like you know what you are doing...you've done well with you first job. Tell us your name...then show us you backs."

Cora nodded and said, "Cora Wolf, also known as Valkyrie."

The leader looked at Cora and made a gesture to signal her to come closer. Cora came closer and bowed down, it was not normal to do that but they would understand if they saw the groups she had been in.
"Turn around and show us your back!", one of the men said. Cora did as she was told.
She would have done anything right now to make Auth leave, standing in front of a bunch of strangers in only her underwear was embarrasing enough, but this time someone she knew, someone she relativly liked and respected had to watch her undressing.
She gave the boys standing at the walls a resentful look, grabbed the bottom of her sweater pulled it over her head and dropped it on the floor. They would probably burn it later and give her different clothes.
Cora put her hands on her head and avoided eye contact with Auth.

Look anywhere but at him now!

Her torso in general looked just like every woman's torso in the military, she had some muscles but when she took a breath you could see the contours of her rips.
You could see some scars on her stomach but they weren't really deep or long on her arms were a lot more and those were deeper and longer.
Cora looked at the boys standing on the wall they looked kinda…shocked, by the amount of scars she had on her stomach and arms. Ha! What would their look be after they saw the ones on her back?
Her back was covered in scars, the tiny ones had already started to fade away but the bigger ones were still clearly visible.
The two 'signs' the men were looking for were a huge scar drawing from her right shoulder down to her left hip and a brand mark of a pentacle between her pouldrons.
One of the men came closer and ran his finger down Cora's biggest scar causing her to shiver.
This scar was the symbol of the group of mercenaries she had been in. It was the 'reward' for surviving the training and now being a full member of the 'pack'. The wound which caused the scar had been around one  to two centimeters deep. It was so deep you were able to see the rips. Cora had been one of the few people who didn't pass out as they cut her back, probably because of Nec and Vex. First they started shallow and got deeper to the end, testing how much pain someone could endure. A wound deeper than Cora's didn't exist, two centimeters was the limit.

The cut was not made by a normal knife but with a claw of a dead wolf. Cora was sure that it wasn't a claw, more like a tooth from a extremly big animal, but she had never told anyone her disbelief.

The brand mark of a pentacle was the sign for the group of people who took Cora away from her family. She had no idea what it meant, she had been to young to be actually interested in what brand marks you got meant.

Cora heard the man's respectful sigh and she smiled slightly. He signalized the others to come, too. The leader inspected the scar and brand mark and then went back his place.
"Turn around!", he said loudly, Cora put the hands away from her head and turned around.
"Step aside!"
Cora bowed down again and went to the wall. The boys watching her stepped a bit aside and looked interested at her back.
If they allowed her to stay then she would probably get a third sign at her back, how fun!

He looked at Auth and signaled him to do the same.

Herdir





Posts

: 243


Join date

: 2015-05-03


Location

: Neverwhere

Character sheet


Rank

:

Rookie




Stats

:


*

:

Scouting Legion




Subject: Re: Shady Business (closed; PM for entry; Violence) Sun Jun 07, 2015 2:41 am

---

Auth followed Cora into the... complex?... and mimicked most of her movements. While they entered the place, his mind automatically entered alert stance. Thus, he first scanned the boys in the room, quickly writing them off as minor threats. The men on the other hand... they looked like the true "businessmen" here. Should for any reason a fight break out, Auth wouldn't have any choice but to instantly turn into attacking them before they could respond.

Then they came and asked for names and their backs. It was just like Cora had said. Still, that didn't prepare Auth for the sight of her scar-filled back. No wonder she was as though as she was, with that treatment at likely a very young age. He moved his sight to the marks: the great scar and the pentacle. He wrote both of them into memory, as they were prime leads into Cora's past.

Soon enough, the man was done with her, and looked at him. Auth made a military salute, but using his left hand. By the smirk that appeared on the man's lips, he tasted the mockery towards the king, and found it sweet.

"Leo Aphadon" He said while taking his leather vest off. Cora surely would understand that mentioning the name of a notorious military police family here would be suicide. When he finished taking off his undershirt, he continued. "Black Crow".

Auth's torso was obviously quite muscular, enough that some of the boys raised their eyebrows. After all, he didn't look at all like that with his clothes on. The man inspecting him raised his own eyebrows too, but for a very different reason: two tattoos of black feathers on the backside of his shoulders. The mark he told truth when he said he was a Black Crow.

The man lightly bit his own tongue as he was looking at Auth's back. It was clearly taking him more time that it should have, given the rest of Auth's skin was unaltered in any way. But those two tattoos were also a mark towards all organizations that he was not to be branded in any way. So it was uncertain if he was in the business before or not. And if he was, under how many organizations he worked up to this point.

Auth glanced smiling at Cora for a second, to show her that he had aces in the sleeve at any turn, then spoke to the man inspecting him. "I've just remembered, you should send someone to take the two horses we got from Kolbermoor's. It'd be a shame to waste them." This perplexed the man even more, as it shown that they did their job high above any expectation. Finally, he sighed, then spoke.

"The girl, Valkyrie, she's certainly getting in. But I've no idea to say about a Crow like you." The man seemed to be conscious that there were multiple Crows. Well, it was to be expected, since he must have had contact with them before. "Girl, do you guarantee this guy's background, as in that he won't betray us at the first step?" Auth stopped himself from smiling. Little he knew, if he was suspecting a Crow to betray as soon as first step. Last step, on the other hand...

Auth inclined his head, looking sideways at Cora. She likely already knew what she had to say, so it was no problem in that respect. Problem was, they might not be impressed enough by her confirming his goodwill. But he trusted that she was skilled enough to talk them into it. She knew what they'd want, unlike himself.

cornix





Posts

: 415


Join date

: 2015-04-27


Location

: Black marsh

Character sheet


Rank

:

Trainee




Stats

:


*

:

Rookie




Subject: Re: Shady Business (closed; PM for entry; Violence) Sun Jun 07, 2015 5:09 am

---

Cora watched Auth carefully. As he made the military salute with the wrong hand she smirked. He was smart and extremly manipulative.

Let's keep that in mind!

It was a good idea to use a fake name if you've never been in this buisiness. Cora was known in some parts so using a different one wouldn't have been good. As he said Black Crow she realized that he indeed was the man she had met a short time ago on the black market. Good thinking!

Cora looked at Auth's torso, he had a lot of muscles, muscles she didn't really expect him to have.

He has some nice tattoos doesn't he?
Indeed!
You know that that is the sign that he is actually Black Crow right?

The man took an unusual time to inspect Auth, it could be a good or a bad sign. Cora herself wasn't really sure about that.
A smile appeared on her face and she crossed her arms as he told them about the horses.

Cora stepped in front as he asked her about him. "I swear by my head that he will not betray you in the first place. I will stand up for everything he does.", she took a deep breath, "You know that I've been a full member of the pack, you know that noone there would be so dumb to work with someone who would betray them. I know him for quite a time now. I have worked with him in a lot of different jobs, he is a skilled man.", she looked directly at their leader now, "And...I know you want me...well I will only join you with him. Take us both or we will go, right away."

Their leader looked at them both for about half a minute and then sighed, "Okay...I will take you both. Bring them to the welcome room!", he shouted.

Some boys shoved both of them into another room. There was an open second floor so you could see what happened down there. Cora and Auth were on the first floor next to a big oven. The leader opened the fox fur bag, took a branding iron in the form of their emblem and held it up.
"I, the fox, will accept those two in my family.", he shouted and then said, "Sad that I can only do this to one of them.", he stepped next to the oven and put the branding iron inside. Four boys grabbed Coras arms and held her in place while their leader took it out of the oven and pressed it under her pentacle. Cora didn't make any sound but she was very close to actually pass out. He finally removed the branding iron from her back, the boys let her loose and Cora fell on her knees and hands. She was breathing heavily but she managed to stand up. She faltered but found her balance. Cora was pale and trembling. The boys around her were quite impressed it was not unusual for someone to pass out.
"Welcome to the foxes!", the leader shouted he came and gave both of them a pat on the back. Cora nearly lost her balance again and stumbeled forward but she didn't fall down.

Herdir





Posts

: 243


Join date

: 2015-05-03


Location

: Neverwhere

Character sheet


Rank

:

Rookie




Stats

:


*

:

Scouting Legion




Subject: Re: Shady Business (closed; PM for entry; Violence) Sun Jun 07, 2015 8:02 pm

---

Auth smiled when he heard Cora talk. So, her skills were known enough so that they'd overlook a possible betrayal for her? "Good for us, bad for them, then." After all, it was no lie that he indeed planned to betray them. At some point.

As they were taken to the "welcome room", he side glanced at the environment. It would be for the best if he kept track of the layout of this place. Soon enough though, they were face to face with "the fox".

Auth didn't say anything, even as he saw the man who was leader. He bit his tongue instead, and could see that, very subtly, he did the same. They both were anxious to talk in private, but for now they had to keep up this charade.

Auth grimaced at seeing Cora branded with hot iron. He couldn't see the point in something like that. His own tattoos were proof that it wasn't necessary for such radical measures. Still, given her other brand was a humongous scar, it could have been worse.

As soon as the fox finished with the branding and welcoming, he signaled to the boys to leave. When he saw them take the newbies with them, he corrected himself on his intentions. "Leave the man here. I've a word with him".

"Leave the girl too. I've no word with you if she's not here" Auth answered. He saw the leader bit his tongue a little again, then he confirmed what Auth just said. Thus, they were now only the three left: Auth, Cora and the Fox.

"So... I'd be tempted to ask what brings vi Rauco here, but it's not like I don't know already". The leader said. "I'm much more curious as to why."

"Think it for yourself, Rusc. You'd been there, you know how it is."

Rusc paused. "Don't remind me, will you? So, you finally saw the wisdom in my actions long ago?"

Auth paused as well. "Not... not yet entirely, but I do see a part of it. We'll speak later about this in detail, and we have to brief Cora as well on what we plan to do."

Rusc nodded, then made them a sign that they were free to leave. Auth made Cora a sign that answers will come later, then took her by the arm and left. That will shock her back into the attitude she had to display in front of all the others.

//OOC: I'm literally grinning wide as hell over here. that's because I do know what they had planned, and what Auth has planned. And it'd not necessarily the same thing, too.

cornix





Posts

: 415


Join date

: 2015-04-27


Location

: Black marsh

Character sheet


Rank

:

Trainee




Stats

:


*

:

Rookie




Subject: Re: Shady Business (closed; PM for entry; Violence) Mon Jun 08, 2015 3:02 am

---

Cora didn't really get all of it what they were saying, mainly because she was busy trying to stand but also because they knew each other.

Wait a second. What? How? Er?! I think we missed something!

We didn't. While you recover from the pain for a second I will explain how I understood it.

Good that we have one person with a brain here!

We all share one, I just think I inhabit the most part of it!

I'm pretty sure it doesn't work like that.

Shut up he is talking again!

"Not... not yet entirely, but I do see a part of it. We'll speak later about this in detail, and we have to brief Cora as well on what we plan to do."

Oh great! We get to know something!

Auth suddenly grabbed Cora's arm and she followed him, still dazed. As they were out of the room she freed herself and stumbeled some steps away. She looked at him, "Well...I have alot...of...questions for you now...but that can...wait.", she was breathing heavily because her back still hurt like hell.

Suddenly some boys came. Two of them were carrying their weapons they took from them before and the others were carrying their new

armour

and some black clothes to put on.

They put it down quickly and went away again, better for Cora.

She sat down and held her head in her hands.

"Give me five minutes and I can think again!", she whispered.

//OOC: I can imagine it! I love the sudden turn of events here! You are an awesome person to write with! (I wrote with some who were so uncreative it was unbelievable)

Herdir





Posts

: 243


Join date

: 2015-05-03


Location

: Neverwhere

Character sheet


Rank

:

Rookie




Stats

:


*

:

Scouting Legion




Subject: Re: Shady Business (closed; PM for entry; Violence) Mon Jun 08, 2015 4:48 am

---

Auth took a seat, then reevaluated their current situation. They were now full members of the foxes, which was quite good. They likely had this day free, and the next few would consist of a number of setup missions. In total, it would be about... one week from now until they had to do the real business. That was good. It meant he had more time to prepare.

"I'll leave you to rest for a while. Until then, I have some quite important business to tend to." With that, he went and recovered a bag that used to be on the horse he rode from the mercenaries. They didn't say anything about it, since he was technically now their allay.

From it, he took out the ragged cape of the Crow and the mask to come with it. After putting this attire on, he left the complex. Right now, even if somebody tried to stop him, he wouldn't allow them. He knew full well that if he killed anyone he'd be able to talk Rusc out if it, given what he planned to do.

Thus, he set out for Kolbermoor's. It was getting towards morning, and that was for the best.

//OOC: Right now, you can have Cora do whatever you want in there. I'm planning to bring Auth back like somewhere midday in-universe. Until then, find some things (interesting, or explanatory, if you can) to do.

cornix





Posts

: 415


Join date

: 2015-04-27


Location

: Black marsh

Character sheet


Rank

:

Trainee




Stats

:


*

:

Rookie




Subject: Re: Shady Business (closed; PM for entry; Violence) Mon Jun 08, 2015 7:07 am

---

Cora was kinda glad that he left for now. Nec and Vex were trying to get control and she didn't really need anyone around right now. After sitting in the hall for about 15min and constantly argueing and talking to herself in her head she finally managed to get those two under control.
Time to introduce herself to her new family and show the others what she was capable of. Cora learned the heard way that it was better to show what you could do in the first place than be the one everyone was mocking.

She stood up, stretched herself and put her new armour on, it was comfortable. Cora went around the corridors to see if she found anything interesting. The wall were she had gotten her third mark was also the room everyone was gathering, to eat to discuss or anything else you could think of. There was a small door to the training rooms and another door to the sleeping rooms. Two people were sharing a room, there was a bed for each and a place to put personal belongings.

Cora decided to look around the training room. It was better to know what everyone was capable of than being surprised on a job. As she entered the room she saw some boys and one girl standing in a circle and talking, when they saw Cora they immediatly stopped and looked at her.

Oh great! The first ones to mess with!
She's right...I know that look too well.

The girl came to Cora and gave her a resentful look. "I heard you couldn't really stand anymore after you got that brand mark, bet you passed out as they gave you the other scars."
Cora looked at her bored, "You don't know anything, do you?"
"What are yo-"
"If you would really know were I had been you would know that those scars aren't as long and deep as mine if you pass out or scream."

That ryhmes!
Shut up!

"Two centimeters is the limit. They don't cut deeper.", Cora came closer and looked down on her, "My scar shows that I am capable of being the next leader of the pack!"
As she said that name the girl winced a bit. She knew that organisation, Cora backed up and smirked.
One of the boys came to help her, "You still couldn't stand."
"Well...I did stand, I didn't pass out or anything and you should know that it isn't normal for someone to still be concious.", more people were gathering. How fun!
Cora grinned, "I bet you pass out immediatly if you just get hurt a bit!"
The girl wanted to punch her, Cora turned away grabbed her arm and tossed her on the floor. She quickly stood up and kicked but Cora was faster and landed a kick in her face, knocking her unconcious. The rest of her friends she was just talking to came and it didn't take long for Cora to make them unable to fight anymore.
She looked down to the girl and her friends who where just starting to regain conciousness and whispered, "Now you know why my name is Valkyrie!", Cora went into the side room where the punchbags were and started to train.



//OOC: Okay!

Herdir





Posts

: 243


Join date

: 2015-05-03


Location

: Neverwhere

Character sheet


Rank

:

Rookie




Stats

:


*

:

Scouting Legion




Subject: Re: Shady Business (closed; PM for entry; Violence) Tue Jun 09, 2015 3:48 am

---

Auth rode silently all the way to the manor he earlier entered through the window. At the very least he wouldn't have to do that one again this time too.

"Let me in. I've a word with the master of the house." He was speaking to the same guardmaster he fooled this night. Seemingly, he was still quite alarmed, probably because the lord had told him what an incompetent bastard he was.

"Do you hav..." the guardmaster begun.

"Shut up and let me in. I'm in a hurry." With this, Auth pushed the man away and promptly entered. It seemed like the man was either too shocked or too obeying to even complain about this. Thus, he didn't say a word even as Auth slammed the door shut and started going up the stairs.

Soon, he reached the main room, in which a not-so-surprised Kolbermoor sipped some wine. He was a man leaning towards old age, but still in strength and aging well. An expression of slight boredom inhibited his face most of the time, only accentuated by the swept-back grey hair.

When he saw Auth, he gestured towards taking a seat, and asked a servant to pour one more glass then leave. The latter did what he was asked and quickly took leave.

As the servant left, Auth took off his mask. It was good to have his fact on open air again. "Been a while, hasn't it?" he told Kolbermoor.

"Indeed. Is this visit about what I think it is?"

"Quite. After all, the coin you left me clearly shown your affiliation to me rather then Rusc."

Kolbermoor chuckled. "Sharp as ever, I see. Yes, I'm on thy side should you turn against him. Which I presume you aim to, at some point...?"

Auth chuckled in return. "I wouldn't be here otherwise, right?"

"Touche."

"So, allow me to ask this one straight:"

"How rare."

Auth ignored the comment. "What information do you have on Rusc since he left?"

Kolbermoor hesitated. "It's... complicated." He stood up and went towards the window. It was obvious that he wanted to break eye contact. "These windows... you entered through one of them this night, didn't you?"

Auth smiled for a split second. Kolbermoor didn't look like it, but he used to be a really powerful ally of his father while in the MP business. That was because out of all people, Kolbermoor was one of the most well informed ones. Part of that was due to an amazing intuition. "Answer the question." Auth said, reassuming a serious face.

Kolbermoor sighed. "Very well." He took a seat again, and leaned towards Auth. If there was something Kolbermoor knew better than what people might've done, it was that walls had all sorts of ears. Thus, he continued in a mere whisper. "Rusc isn't the same since he left back then. Allow me to warn thee about what this new man might do..."

Auth leaned in himself. Whatever Kolbermoor might say now, it was important. Very, very important.

cornix





Posts

: 415


Join date

: 2015-04-27


Location

: Black marsh

Character sheet


Rank

:

Trainee




Stats

:


*

:

Rookie




Subject: Re: Shady Business (closed; PM for entry; Violence) Tue Jun 09, 2015 6:32 am

---

Cora had trained for about an hour as some boys came in and started to train with the other punch bags. She made a short break and drank some water. Suddenly she stood up and punched one of the boys on the shoulder, "You sneaky bastard!", she said and grinned. The boy turned around slightly confused but after some seconds he realized to whom he was talking to.
"So...you are the new one everyone is talking about!"
"I guess...they could also talk about A-Leo."
He patted her head and grinned, "I thought you would have died by now!"
"Me and dieing? Like hell I would die so fast!", Cora jumped up she was happy, "I thought you would be dead...so they sold you to the foxes?"
"They did...pretty good here, I guess."
"Pahh the foxes are wimps. You saw how they are trained here? That's not training!"
The boy nodded. His friends looked at Cora and asked, "That's the new one, how do you know her?"
"That's Cora Wolf, I was trained together with her at the pack. She landed in our group, we were all two years older than her but she turned out to be the best...after you started following their orders."
Cora grinned, "That's why you guys gave me the name Valkyrie! I gave you the name Bear, because you were the strongest, right Max?"
He nodded again, "You can see at our scars that she was better than me.", he and Cora lifted their shirts on their backs, Max's went only about half the back and wasn't as deep as Cora's. They put them down again, "She could have been the next pack leader, the next Alpha Wolf!", Cora nodded. Deep inside she would love to be the Alpha Wolf. For now she needed to get Auth on top of the foxes.
Max looked at the boys then grabbed Cora's arm and said, "Excuse us...I need to talk to her alone!", he shoved her out and went through the corridors, Cora followed him. He went into a small door and up a ladder. As they reached the top they found themselves in a small room were you could see the main hall without being seen.
"I thought you didn't want to answer that in front of other people...How are you Nec and Vex?"
"We are good, we are good! Why would you-Oh shut up. We are good, let me talk, she is the same as always."
He laughed, "Good to hear that!"


Herdir





Posts

: 243


Join date

: 2015-05-03


Location

: Neverwhere

Character sheet


Rank

:

Rookie




Stats

:


*

:

Scouting Legion




Subject: Re: Shady Business (closed; PM for entry; Violence) Wed Jun 10, 2015 1:27 am

---

Auth prepared to listen to Kolbermoor. Rusc, changed... well, it would only be natural, but for Kolbermoor to say it? It meant something major. And he'd better listen.

"Since he left, Rusc only cultivated the hate you know about even more. He blamed everything bad on... you know... and did everything to get away from him. That's how he ended up a fox."

Auth knew that the event in question did certainly leave a pretty ugly scar on Rusc, metaphorically, but it seemed like the now-outlaw didn't try to mend it one bit. On the contrary, he serrated it even more so that he'd remember the pain better. That was bad.

"The Foxes... they're one of the most vicious groups around here. They always keep a very low profile, but many of the thefts, illegal transactions and even assassinations the Inner guys hear about are created by them. Only, they never leave their own mark on it. It is always some other group that's held responsible for it."

A group of outlaws that blamed other groups. And from the sound of it, it didn't only blame enemies, but friends too. Indeed, corruption amongst the corrupted and exiled. So the Foxes were one of the most black of the groups here in Nedlay. And, from Auth's knowledge, all other groups that sounded as bad were at least having interior codes of honour. Not the Foxes though.

"Rusc... you wouldn't believe it, but he fit in perfectly. Too perfectly, in fact. In a mere month he managed to get most of the underlings on his side and completely overthrow the old leader. His ascent was lighting fast, but he didn't fall back. You'd know why."

So Rusc... he changed the focus of his skills, which in and of themselves weren't as different from Auth's own. Kolbermoor was right, it seemed unfathomable, given the way Auth knew Rusc, as a man of great honour. Did all that just... vanish?

"All this time he didn't leave sight of his goal for one second. I'd seen them, jobs seemingly without reason, but so painfully obvious towards his hidden goal if you knew it. Now, I believe it's one of these jobs he wishes to use you for." Kolbermoor paused, as his eyes widened at some sudden realization. "Or... am I right on what I believe?"

Auth smiled weakly towards the man. "Yeah. I'm here to do the finale." Auth started to process what he just heard. For so long, Rusc had prepared this. It was amazing, but it was also wrong. What Auth planned was better for the both of them, even if Rusc wouldn't ever see that fact. Still, better to keep it hidden.

"Then... It's good to know you're not on his side." Kolbermoor returned the weak smile. "Well, I told you all I knew. The rest you can surely figure yourself, if you didn't already. Good luck to thee!"

Auth nodded. "And to you as well." he said, then took his leave.

On the horse, he made himself be certain to fill Cora up on the details as soon as she finished hearing Rusc's plans. She had to know these things, and hopefully will agree with him. Hopefully...

cornix





Posts

: 415


Join date

: 2015-04-27


Location

: Black marsh

Character sheet


Rank

:

Trainee




Stats

:


*

:

Rookie




Subject: Re: Shady Business (closed; PM for entry; Violence) Wed Jun 10, 2015 3:55 am

---

Cora sat there in silence with Max. He had been one of the few who helped her when she was new in the group.
"Do you want to tell me what happened to y-"
"No!", she said quickly, she definitely didn't want to tell anyone about what happened and that she was in the military now.
"Well okay then I guess.", he said, he was slightly dissappointed that Cora didn't tell him but he seemed to understood. Cora didn't care for his opinion anyway.
She stood up and stretched her arms, "I will go now...I wanted to train some more!"
"Still the same, right? Always training, training, training.", he joked.
"It was the only thing that kept me alive, Max...and you know that!", she said serious and made her way back down.

Cora took some badages and wrapped them on her hands and wrists.
"Bring it on!", she said and smiled at her opponent. The boy lifted his hand and hauled off but Cora was faster and one swift kick in his face made him black out.
"You were the fourth...I had hope in you but you dissappointed me...", she sighed and then shouted all across the training room, "MAX, I want to fight someone!"
He smiled and wrapped some bandages on his hands.
"I have hope you will be a worthy opponent, bear!"
He smiled and wanted to throw her away but was faster and slipped away. She landed a kick on his back but he didn't seem to mind. He punched her in the stomach and she couldn't breath for half a minute but it didn't stop her from fighting.
Their fight went on for about five minutes until Cora kicked him on his ear and he went down.
Cora sat down next to him and waited until he woke up again. "Another round?"
"Not now Cora...don't lie now: You didn't gave your best, right?"
She nodded, "I didn't want to discourage you."
Max looked at her and stood up, "It's okay...you have to find someone else.", he went away.
Maybe she could fight with Auth later...
Cora sighed, it was so boring here...what they called training was nothing, everyone just did what they wanted to do.

We could always go back to the pack.
We are in the military now...remeber?
We are, sometimes it would be better if we weren't.

All this fighting here made Vex excited, she wanted to fight. Cora lifted her hand slightly and saw that it was shaking. She made a fist, stood up and went away into her room.
She sat on her bed with her eyes closed and talked to herself in her head.
Vex needed to calm down now.

Herdir





Posts

: 243


Join date

: 2015-05-03


Location

: Neverwhere

Character sheet


Rank

:

Rookie




Stats

:


*

:

Scouting Legion




Subject: Re: Shady Business (closed; PM for entry; Violence) Wed Jun 10, 2015 4:46 am

---

Auth reached back to the hideout, and promptly entered. A few odd looks were pointed towards him in his Crow attire, but it was something usual. What troubled him more were the details he had heard about this organization in general. No honour, and this sort of work? It was a wonder it even still existed.

He went back to the room he shared with Cora. Rusc's idea, most like. A proof he didn't trust them enough to keep them separated, and that he had them both in one place so that he could easily watch them. And possibly imprison them, should the need arise.

He saw Cora sleeping... no, she wasn't. Her breath was too irregular for that. Thus, he decided it wouldn't be any harm to say hello. "I'm back. How are you doing?". Auth started to fiddle around with the new armour he received. After checking the material a bit, he sighed and threw it away. Useless junk, to someone used to the quality he was used to.

"So, anything interesting happened while I was gone?"

cornix





Posts

: 415


Join date

: 2015-04-27


Location

: Black marsh

Character sheet


Rank

:

Trainee




Stats

:


*

:

Rookie




Subject: Re: Shady Business (closed; PM for entry; Violence) Wed Jun 10, 2015 6:03 am

---

Cora startled up and looked at Auth, "You got me...", she whispered.
How great Vex had just started to calm down and now Auth was back and excited her again. Vex seemed to really like him.
"I'm great!", she said, it was as always useless to ask that. Her answer was the same anyway.
"Found someone who used to be with the pack...he was sold to the foxes a few years ago.", Cora was wondering if that could have happened to her too...probably not, she had been too good to be sold to them.
"And I trained.", she said, it wasn't really that interesting. Cora held her right hand with her left hand to stop her from shaking, it was too much excitement for now.

Suddenly the door swung open and Max came in, "Hey Cora I wanted to - Oh...you've got your...friend here."
Oh how great, more things about the past...even more trouble that excited Vex and now even Nec.
Cora looked at him, "It's okay, come in. What is it?", she said the anger in her voice was clearly hearable.
He slowly closed the door and looked at Cora then back to Auth.
"Does he?"
"He does. For everyone here. That's Max the guy who probably kept me alive in my first years of training and that's Leo, the guy who got me back to buisiness.", she smiled but it wasn't a real smile.
He nodded, "Is it okay, I saw your hand..."
"It's okay, you're free to go now.", she said. He was a person involved with her past, Vex annoyed her really now. Constant talking that noone else could hear wasn't so good to handle.
He opened his mouth closed it again and then finally said something, "It isn't. I know it!"
"Noone is able to do something and now you're only making it worse! Don't care about me!", she said, her voice cracked a few times as she said it.
He went away and Cora looked at Auth, "Sorry...what did you do?"
Even if he said something now she probably wouldn't be able to understand him because of the voices inside her head.
"You visited Kolbermoor, didn't you?", she was just guessing now, but if she was right it would be enough to keep him from asking.

Herdir





Posts

: 243


Join date

: 2015-05-03


Location

: Neverwhere

Character sheet


Rank

:

Rookie




Stats

:


*

:

Scouting Legion




Subject: Re: Shady Business (closed; PM for entry; Violence) Wed Jun 10, 2015 7:25 am

---

Auth watched the whole incident with Max with an amused look on his face. He had too many things on his mind to try and think about Cora's past right now anyway. Still, that guy could prove to be useful later on. Mentally noted.

Cora asked him if he visited Kolbermoor. Well, well, well... Auth didn't know whether it was just a lucky guess or some burst of intuition, but she was kinda right. He thought about lying about it, then decided it served no purpose. He still lowered his voice when he spoke though.

"... Yeah. He's an old acquaintance, a master information gatherer." He lowered his voice even more, to a mere whisper. "I've asked about Rusc. I'll tell you later, the walls here have ears. You should know how that goes quite well."

He leaned back and stretched. "So, you've trained all this time? Gosh girl, you really do work non-stop." With that, Auth suddenly stopped and blinked a few times. "That reminds me... I've never seen you actually fight human opponents. How very good are you at it?"

He smiled, but this was actually important. He had to know at least her general style of fighting, if they wanted any chance to not get in each other's way during combat.

cornix





Posts

: 415


Join date

: 2015-04-27


Location

: Black marsh

Character sheet


Rank

:

Trainee




Stats

:


*

:

Rookie




Subject: Re: Shady Business (closed; PM for entry; Violence) Wed Jun 10, 2015 10:40 am

---

Cora was surprised that she had actually been right with her guess. "Well now I know a place were noone can hear us."
She grinned as she heard him talking about her training, "Well...I didn't know what to do else, and half of the time I beat up those fox wimps. I'm...", Cora wasn't sure if she was really this good, "It depends on the person I'm fighting. I'm not very strong but my kicks are hard and I know where I have to kick someone to knock them out. So that's okay I think. When I fight just with swords or daggers or knives Nec is better and the one that fights really unfair is Vex. She uses everything she can find. Really everything."
Cora pulled her kneas to her body and looked at Auth. He really had to tell her something about him in exchange for her telling him something. But now wasn't really the time.
She also remembered that she hadn't told Auth yet that going away wouldn't be in for them.
Suddenly she remembered her previous idea, "Hey Auth, wanna fight with me. Not long, please?"

Let me fight?
Never, you kill him!
I would never kill him, I like him too much to do so.

Herdir





Posts

: 243


Join date

: 2015-05-03


Location

: Neverwhere

Character sheet


Rank

:

Rookie




Stats

:


*

:

Scouting Legion




Subject: Re: Shady Business (closed; PM for entry; Violence) Wed Jun 10, 2015 10:13 pm

---

Auth noted the information he just got. Well, it did seem natural for her to use her legs more than hands in combat, given her physical constitution. Tall and skinny and not using kicks? You should be really stupid to be like that. And Cora was anything but stupid.

"Well, it wouldn't hurt to spar a bit. That way, you'll also get a feel of my style. I'll be waiting for you in the training room, gotta warm up a bit, so that it'd be fair."

With that, he left towards said room. Once he got there, he looked a bit among the trainees here. They each seemed to do at least one thing awfully wrong without realising it. He quickly switched his attention to a punching bag though, and began hitting it.

The way he did it was somewhat counter-intuitive to what you'd thing hitting a punching bag should be like. More precisely, not a single one of his punches moved the bag even a half inch, leaving it almost perfectly still. Auth heard some muffled laughter, but ignored it. Laughter from someone not knowing what he did didn't matter to Auth in the least.

cornix





Posts

: 415


Join date

: 2015-04-27


Location

: Black marsh

Character sheet


Rank

:

Trainee




Stats

:


*

:

Rookie




Subject: Re: Shady Business (closed; PM for entry; Violence) Thu Jun 11, 2015 2:19 am

---

Cora was glad he had left for now and she finished her talk with Nec and Vex. Stopping them from trying to control her. After ten minutes she stood up and went to the training rooms. She warmed herself a bit up again by doing some push ups and then went to Auth who punched the bad without it moving a bit. What a weird technique to use! Cora didn't know about it but she made a short mental note to be careful when fighting him later.
"Are you finished? I can wait if you aren't. Anyway, I got you some badages for your hands it portects not only you but also me...even if it's just a bit.", she gave the bandages to Auth and wrapped hers around again.


Herdir





Posts

: 243


Join date

: 2015-05-03


Location

: Neverwhere

Character sheet


Rank

:

Rookie




Stats

:


*

:

Scouting Legion




Subject: Re: Shady Business (closed; PM for entry; Violence) Thu Jun 11, 2015 2:54 am

---

Auth took the bandages from Cora. "I'm done, let's go." He eyed the bandages skeptically as he went to the ring, but wrapped them on his hands anyway. He wasn't sure of their usefulness, given he rarely flat-out punched in a fight.

"Before we begin, I have one condition. Neither of us should go easy on the other" Auth only half-meant what he said, since a good amount of his techniques were meant to be lethal, thus far from usable in a spar. "After all, we need to get a feel of the other's style."

He knew Cora would agree, so he didn't really wait for a confirmation, and assumed guard stance. It wasn't the usual thing you saw around here, much like his type of training. The position was quite high, with the legs only slightly bent at the knees. The point of balance was entirely on the back foot, the front one standing lightly with only the toes touching the floor.

Auth's right hand was extended almost fully in front of him and kept a closed fist. The other was with the palm open, and placed around at half the length of his main hand. It was a stance obviously for gripping... and deceiving. Auth's style very rarely consisted of grips, mostly only using blows.

"Ready?"

Sponsored content






Subject: Re: Shady Business (closed; PM for entry; Violence)

---

| | |
| --- | --- |
| Shady Business (closed; PM for entry; Violence) | |
Welcome!!!
This is an attack on titan RP where titans are rules of the land. Humans are locked into the walls living their life and trying keep safe from those monsters. You can play canon and non-canon characters but the story doesn't follow the manga. Enjoy your stay and RP with us!
Staff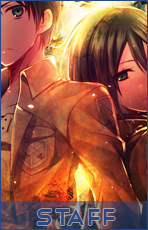 Affiliates
Our Buttons


Your Buttons